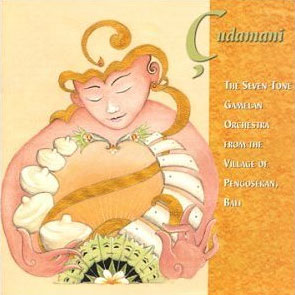 Buy from Vital Records
Buy on Amazon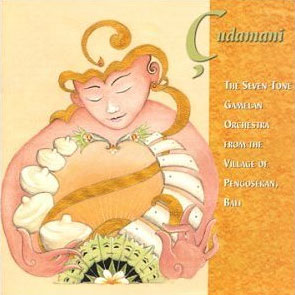 The Seven-Tone Gamelan Orchestra
from the Village of Pengosekan, Bali
Created and performed by: Gamelan Çudamani
Artistic Director: I Dewa Putu Berata
About the Recording
This album presents music by Gamelan Çudamani, one of Bali's most vibrant new sanggar, or private arts organizations. It was formed by a family of young musicians in the village of Pengosekan, a rich center of gamelan music, dance, painting, and sculpture. The virtuosic musicians of Çudamani, led by Dewa Putu Berata, play on an unusual type of hybrid gamelan orchestra created in the 1980s. With seven tones rather than the usual five, this gamelan Semarandana allows the freedom to play in unusual modes, derived from older court and ritual gamelan. Combined with the powerful resources of modern Kebyar style, this special gamelan has inspired Çudamani to create and re-create a wide range of music and dance works from Taruna Jaya, an explosive early 20th century dance to Geregel, a seven-tone instrumental work that has opened entirely new vistas in contemporary gamelan music.
The Seven-Tone Gamelan Orchestra from the Village of Pengosekan, Bali, like all Vital Records CDs, is the result of a long process of collaboration and planning with the group's members. All the artwork, from the cover to the disc surface, was created by Çudamani musicians. The works were chosen for their balance, contrast, and representation of the group's repertoire. The recording was done in the largest courtyard area of the Dewa family's compound — an outdoor space of perfect acoustic characteristics for gamelan sounds.
The first piece, Geregel, is also the subject of an extended article in Perspectives in New Music (Volume 40/1). This article explores the world of seven-tone, modal music in Bali; the development of the hybrid gamelan Semarandana, and analyzes Geregel in its stunning innovations of modal use, form, phrases structure, and orchestration.
©2002 Gamelan Çudamani