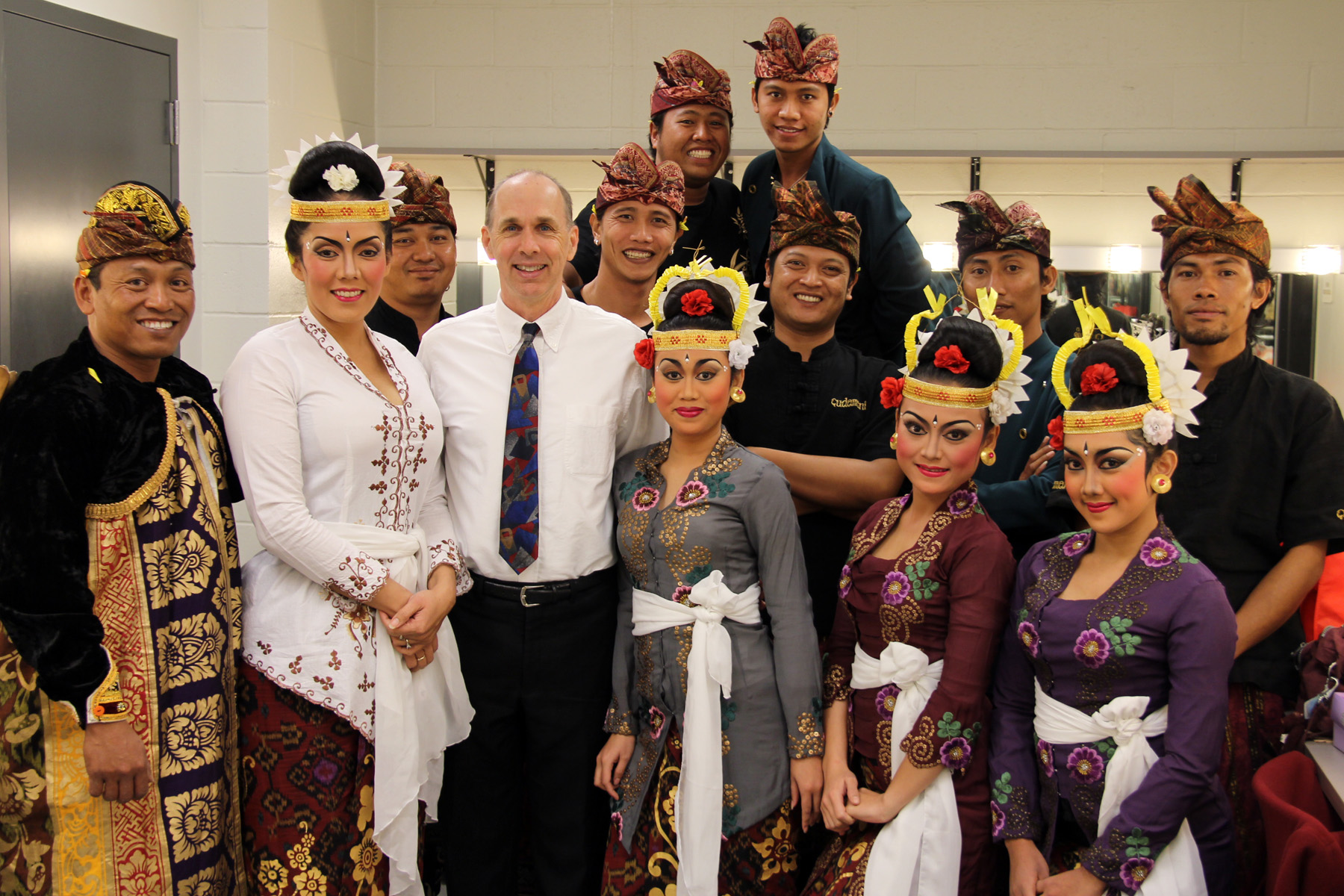 The fifth and final week of World Fest brought Çudamani to Red Oak, IA. The majority of our workshops and demonstrations took place inside the Wilson Performing Arts Center which was a delightful way to end the tour. Thanks to Karen Sherman for the generous hospitality throughout our stay.
It was privilege to teach advanced kecak workshops to eager music students from Red Oak's middle and high schools. It comes as no surprise that both groups were able to quickly learn and chant the complicated interlocking rhythms with ease.
Of course the Red Oak Elementary students were just as enthused to learn the basic kecak form.
The stage is set for Çudamani's final World Fest performance.
"Rerejangan – Sacred Dances" evokes the sacred 'Rejang' temple dances of Bali, where women of all ages dance together, giving their movements, holy water, incense and offerings. Often moving alongside temple priests, the women give their dance as a gift to the divine.
"Geguntangan – Kunthi and Karna – Mother and Son" is inspired by the Mahabharata, an epic story revered as one of India's greatest literary masterpieces. The battle between the heroic Pandawa brothers and their sometimes unethical Korawa cousins reflects humanity's unending state of strife.
"Baris Bandrangan" comes from a form of dance in Bali that is rooted in ancient traditions of temple dancing. Though this piece is new and was created for premier on this Arts Midwest tour, it is inspired by the powerful Balinese traditions of male dancing. Dancers carry "Bandrangan," ceremonial spears, carried during ritual to accompany and protect the sacred deities.
"Legong Pengeleb –- Set Free" was creatively reconstructed by the special guest teachers and the artists of Çudamani. The piece conveys the thoughtful and emotional struggles of a young woman as she seeks freedom from the restrictions of parents and society, longing for her spirit to be set free. Using her intelligent, playful, and persistent spirit, she negotiates the freedom she longs for and joyously dances with her spirit set free. Dynamic rhythms, precise and ornamented connections between music and dance, and constant melodic shifts are evidence of North Bali's leadership in Kebyar; a musical explosion that began almost a century ago. Performed by only a handful of dancers and very few gamelan ensembles, the piece is one of the masterpieces of Balinese performing arts.
"What Really Happens at Rehearsal" is inspired by the vocal traditions of East Bali's Genjek and the healing interlocking of Kecak. Çudamani has decided to give a glimpse of who we are off-stage and how much we enjoy each others' company. Members collaboratively created the movements, vocal treatments and rhythmic elements. In this work each person is free to interact with friends through an improvised framework. For us, the arts are not simply the final product on stage, but about creating a life and world that is full of joy, friendship and harmony.
The group poses with Wilson Center's director, Karen Sherman. With the Wilson Center serving as our banjar — or communal space — through the week, the group really got to know Karen well. Thank you for everything Karen!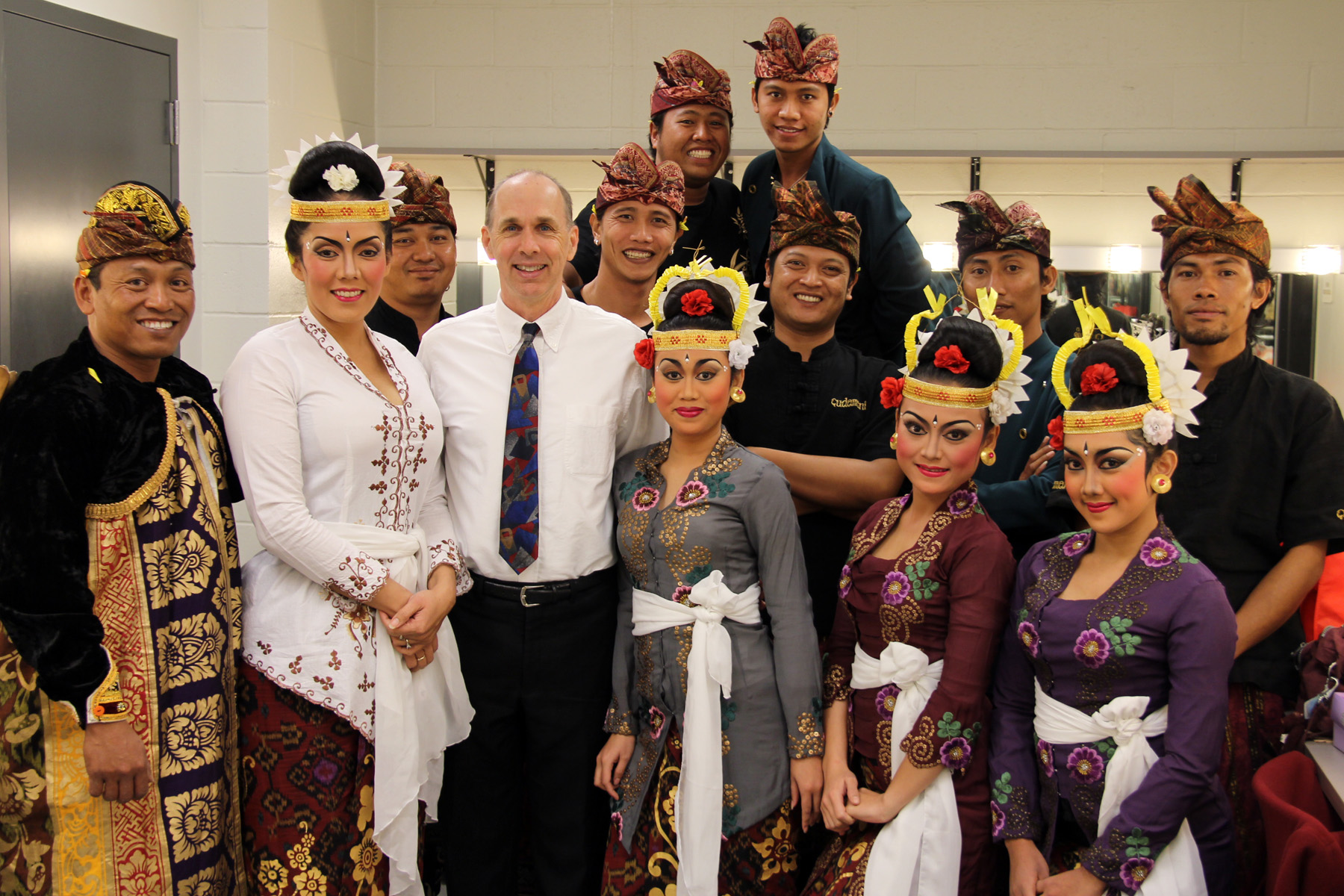 The group poses with Ken Carlson, Senior Program Director of Arts Midwest's World Fest. Words can not describe how grateful we are to you for giving us this incredible opportunity. Thank you from the bottom of our hearts.