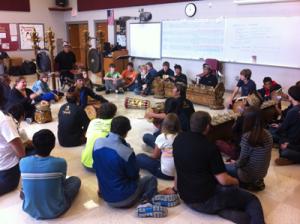 The fourth week of Çudamani's World Fest tour brought us to Wausau, Wisconsin. As we drove through the gorgeous country of Minnesota, it struck us that Wausau would be the final stop of this tour, and our visit to the Midwest would soon be over.
Upon our arrival, Barbara Klofstad, education director for the Wausau Performing Arts Foundation, escorted us to a welcome reception at the First Universalist Unitarian Church. We were greeted by many new faces, including members of the congregation and teachers from the local schools. Warm coffee, baked sweets, and hand-made Indonesian dishes made us feel at home. The members of Çudamani showed their gratitude by introducing themselves in English and singing a short Balinese chant.
Over the next three days, we traveled to Wausau West and Wausau East high schools, Newman Catholic School, and DC Everest Middle School. While each visit included Çudamani's one-hour workshop, additional time at all three schools allowed for a much more interactive exchange. High school students at Wausau West and East were given a special opportunity to play the gamelan instruments and learn basic dance moves. Elementary children at Newman Catholic shared drawings that illustrated what they had learned about Balinese Hinduism. At DC Everest, music students performed an arrangement of "Camptown Races" and much to our surprise, Çudamani was able to adapt the melody into an improvised gamelan song! Thanks to the preparation of teachers and students alike, the school visits were an enriching experience for everyone.
Despite our busy schedule at the schools, we still managed to see plenty of local attractions. The group took a hayride at a nearby dairy farm, walked through a corn maze, and stood atop the highest point on Rib Mountain. While the scenery was lovely, our visit to the Woodson Art Museum went above and beyond our expectations. The members of Çudamani, all visual artists themselves, were amazed by the bird paintings and sculptures that adorned the museum galleries.
Of course, a week in Wausau wouldn't be complete without a performance at the majestic Grand Theater. With this being Çudamani's final performance, the group pulled out all the stops, and judging from the full house, the show was a great success. Thank you to Executive Director Jim O'Connell, Barb, Marcy, Mark, Val, and everyone else at the Performing Arts Foundation for an incredible ending to our Art Midwest World Fest tour. We look forward to returning to the Midwest in April 2013!
By Philip Graulty