Çudamani Arts, Culture, Environment Tour (ACE)
If your idea of travel is to know the inner workings of another culture, Cudamani ACE tour may be your answer. Under the direction of Emiko Susilo and  Dewa Putu Berata, this educational tour provides an insider view of Bali. Designed for those wishing to visit Bali who do not have the luxury of time, each day gives you access to experiences and insights not available by any other travel tour. It is also designed to be a complement to the gamelan and dance training found in the Cudamani Summer Institute .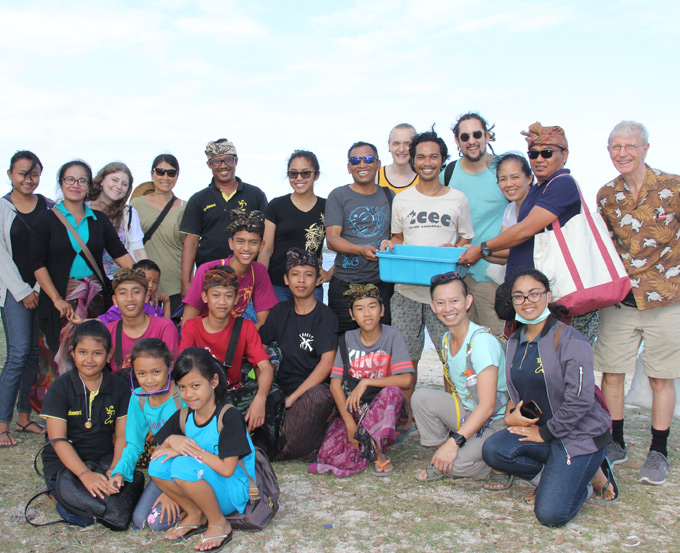 Our carefully designed  itinerary will help you understand and appreciate the creative, social and spiritual world of the Balinese. Central to this appreciation, we recognize that Bali faces increasing environmental and cultural challenges, indeed some now threaten the Balinese way of life.  Yet it can be said that the Balinese philosophy of life manages to overcome countless obstacles.   The expertise of Emiko and Dewa provide a balanced inside perspective that is tempered by a life time of commitment to their community.  This program is open to all ages over 12.  In keeping with the Balinese way, we wish to be flexible to individual needs. Regrettably, Balinese temples and household entrances are not wheelchair accessible.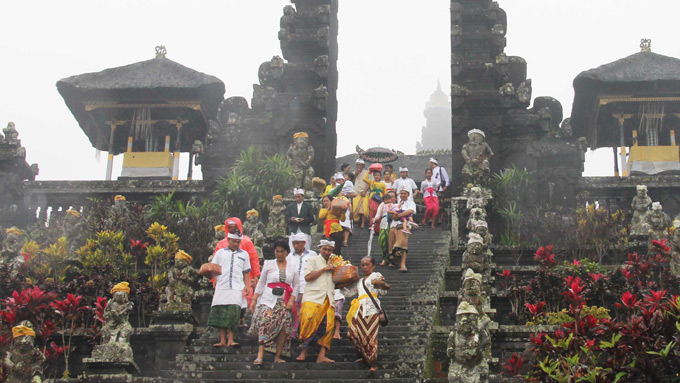 "The Cudamani Arts, Culture, Environment Tour was a truly rich and amazing experience. It was very well organised and carefully structured, allowing us to gain a deep and lasting understanding of many aspects of Balinese arts and culture and also an insight into some of the environmental problems facing Bali. The Cudamani community members were very welcoming, and always willing to share their deep understanding of Balinese culture.  It's hard to believe how much we experienced in that one week whilst still having time for a bit of sightseeing, shopping and relaxation too. I will reflect on and remember the tour for many years to come, both personally and professionally. The experiences from this trip will help inform and refine my music and teaching practices."
"I consider myself one of the lucky ones who got to experience Bali and in particular Ubud and its culture from an inside perspective, one that many tourists on the island miss but that makes a trip to Bali so much richer. With the ACE program we got a chance to play gamelan with amazing musicians in a totally supportive and traditional way. We got a chance to practice some dancing and challenge ourselves with kechak. One of the highlights for me was being able to experience temple ceremonies and watch amazing dancers move to equally incredible music. One of my favorite parts was being welcomed and fed delicious food in the homes of the people who cooked it. In addition we got to take lots of field trips and learn about the culture and environment of Bali. This was an experience I will truly treasure and I highly recommend it to anyone wishing to visit Bali."
Highlights Include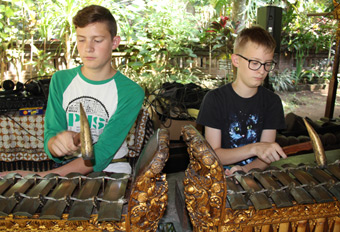 Each day begins with a 1.5 hr Cudamani movement and gamelan workshop. Balinese arts provide a window to the creative and aesthetic world of Bali. Lead by Emiko and Dewa each session is intended to relax and inspire.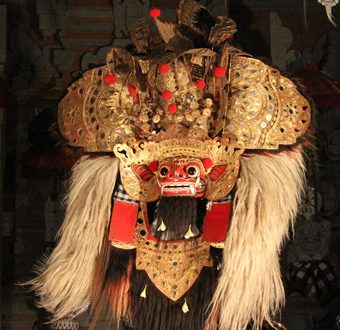 A highlight of your journey will be attending a major temple festival at Pura Pucak Padang Dawa in Tabanan where over one hundred Barong gather for blessings. This visit will include ACE insights in Balinese history, architectural design, and the collective, vibrant and creative activities of the Balinese worshipers. With Cudamani members as your guide, you will attend this ceremony in a manner respectful of the culture.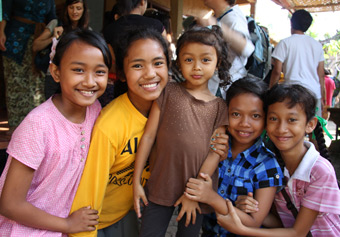 Hands on workshops will allow you to try activities such as offering making as you join Pengosekan's village study group for young Balinese. Basically, the cutest kids imaginable sit next to you with smiles and giggles as you learn how to make offerings together.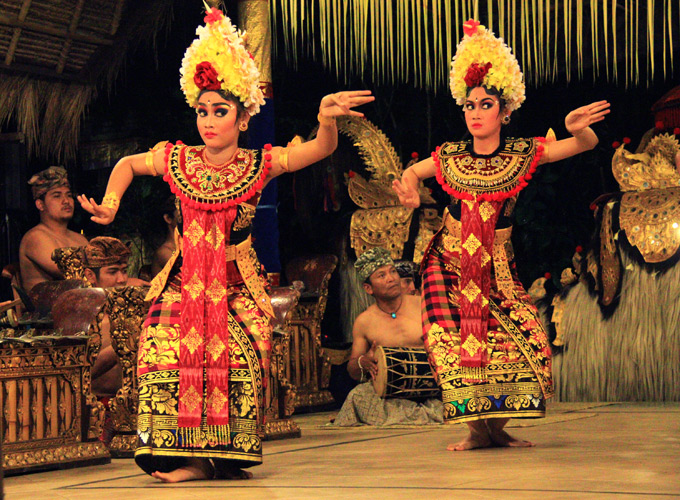 An evening visit to the Bali Arts Festival will include choices to see a variety of Balinese performances, handicrafts, as well as taste the delicacies of food vendors.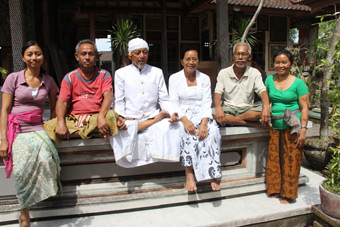 Join in discussions with Cudamani artists and Distinguished ACE Lecturers as we discuss issues facing Bali today, with 4 million tourists visiting each year, the island faces major issues of development and cultural preservation.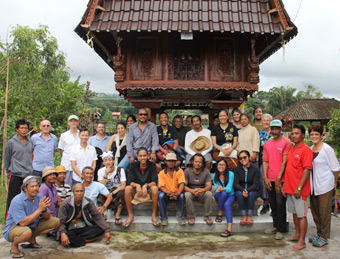 A visit to the village of Pagi will introduce you to the leaders of the Balinese organic rice growers movement. See their owl breeding program, walk through the rice fields and enjoy their local cuisine. We sit in front of the sacred rice barn- which holds the rice harvest.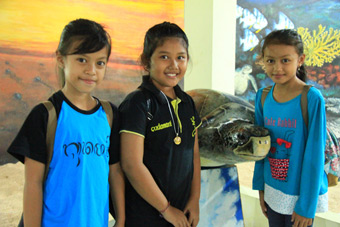 Our visit to the Sea Turtle Conservation and Education Centre at Sarangan takes place at the height of the egg laying season.  This heartwarming rescue program is a testament to environmental stewardship. After our visit to the centre  we gather at the ocean and each of us releases a turtles into the Pacific.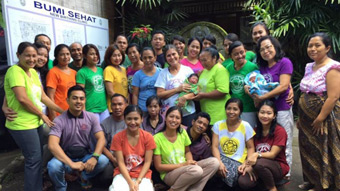 We will visit major health initiative (Burni Sehat Foundation) lead by expat health care professional Robin Lim, named Women of the Year in 2011 by CNN.  (if you are interested in donating medical or newborn supplies, please let us know).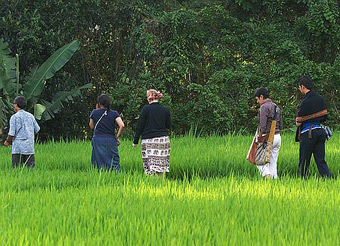 Daily programs will last from 5-6 hours, allowing for individual time to explore the UBUD area on your own.
Tuition & Deadlines
WE ARE NOT ACCEPTING APPLICATIONS AT THIS TIME.
Tuition:
Double occupancy: $1400; Private room: $1,650;
Youth (11-17yrs) with paying family member: $1,000
Deadlines:
Registration and Deposit 
Full Payment .
Program includes:
Shared or private accommodations
Daily Breakfast
Lunch on days in session
Admission to all events
Local transportation
Airport transfer
Welcome reception
Exclusive and private Çudamani performance
Farewell dinner
Discount on tickets to the Çudamani Festival
Payment Options
Terima Kasih! (Thank you)