Bali Events
DUE DATES DUE TO RAIN: July 10 & 11, 2023  6 pm doors open show 7-9:30 pm  Cudamani Annual Festival at Museum Puri Lukisan, Ubud, Bali.  We are preparing two full evenings of Gamelan and Dance featuring both the younger and senior ensembles.  It is seldom possible to see this  wide range of dances in a single program.  Enjoy this performance under the stars at the beautiful Museum Puri Lukisan in the heart of UBUD.   This is the rare opportunity to see Cudamani in Concert and to contribute your ticket revenue to our School fundraising campaign.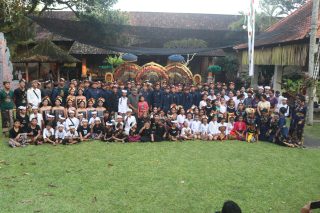 July 6-23 2023  Cudamani Summer Institute  open to students of all ages and abilities,  the program provides cultural immersion under the guidance of master teachers and experiences administrators.  See Summer Program page for more details. Deadline May 1st. ENROLLMENT CLOSED 6/1/23.
April 24, 2022  2-7PM  CUDAMANI FAMILY DAY presented by Museum Puri Lukisan and Sanggar Cudamani.   This five hour program  combines the treasured exhibitions of the museum and two hundred musicians and dancers from Sanggar Cudamani.  Seldom can you see such  a wide range of works with performances ranging from our newest students to our professional company.  This afternoon was designed with Balinese families in mind, but of course international guests are welcome (all donations go directly to the school).   After two years of COVID isolation we are pleased to present our first collaboration with Bali's most distinguished museum. Under the stewardship of the Royal family of UBUD, Museum Puri Lukisan is a testiment to their support of traditional Balinese art and culture.   For more information:  gamelancudamani@gmail.com.
February 2, 2022    Cudamani Ngayah (temple performances) of gamelan and dance by all Cudamani students at Pura Taman 
November 18, 2021– Our school will reopen after COVID with a gathering to prayer Nguasen. With an enrollment of 225 young people and eighteen faculty we are filled with graditude for all who are working hard to support our Balinese community. 
Çudamani encourages children to develop their love of the arts from a very early age. Dewa Gde Sanjaya (6 years old) and Dewa Gde Wijaya (4 years old) perform as an 'offering' for the cremation ceremony of the King of Ubud.
Sanjaya and Wijaya have been tutored by Dewa Putu Berata and other senior members, but the dance does not have set choreography. Instead, the dancers must understand the music and even more importantly understand the signals from the drummer. The kids are smart, talented, and determined.
Placed within the walls of the Ubud Palace, listen and watch as Çudamani lovingly nurtures and celebrates the courage of these young children. This video explains why the arts flourish in Bali.
Recorded in 2008.