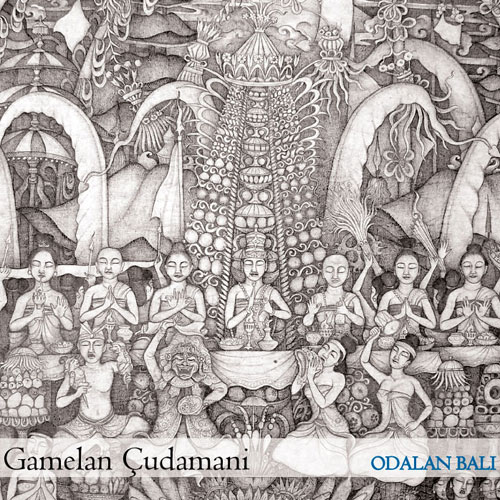 Buy on iTunes
Buy on Amazon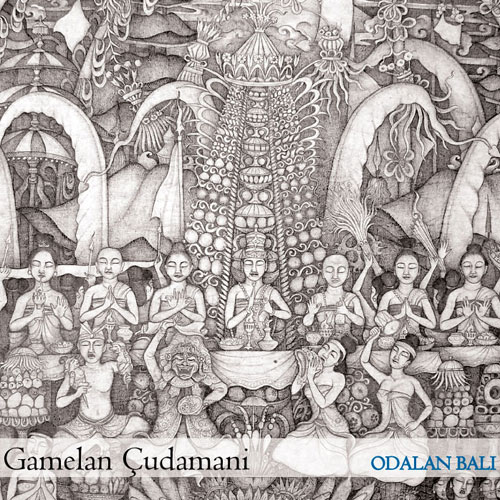 Odalan Bali
Created and performed by: Gamelan Çudamani
Artistic Director: I Dewa Putu Berata
Assistant Artistic Director: Emiko Saraswati Susilo
Gamelan Musicians
Dewa Ketut Alit Adnyana, Dewa Nyoman Apramada, Gusti Kompiang Armawan, Dewa Gde Guna Arta, Dewa Putu Berata, Gusti Nyoman Darta, Wayan Darmawan, Ida Bagus Putu Haridana, Komang Harianto, Made Joker Winangun, Anak Agung Rai Julianti, Made Karjana, Made Karmawan, Made Mahardika, Dewa Made Mega Putra, Dewa Putu Rai, Dewa Made Suardika, Made Suandiyasa, Dewa Putu Sudiantara, Made Suniantara, Dewa Made Suparta, Made Supasta, Gusti Ngurah Suryana, Anak Agung Gede Anom Sweta, Gusti Putu Ratna, Dewa Putu Wardika, Made Widana, Ida Bagus Made Widnyana. Vocal: Emiko Saraswati Susilo, Wayan Pebri Lestari, Dewa Ayu Eka Putri, Gusti Ayu Suryani, Desak Made Bratiani, Wayan Suweni, Wayan Somawati, Kadek Sudarmanti. Dalang: Ketut Wirtawan.
About the Recording
Inspired by Bali's timeless cycles of ceremony and ritual, Çudamani's work transports the audience from the everyday world with its virtuosic detail, emotion and energy. An exquisite synthesis of music, drama and movement, Odalan Bali captures the exhilarating splendor of the Balinese temple festival.
From the clamor of villagers working at dawn to the calm of prayer and worship, and from the meditative resonance of voice and flute to the virtuosic dances for which Bali is famous, this original evening-length work traces the life of a ceremony from the awakening of the ritual site, to purification, and finally to spiritual union. Odalan Bali speaks to the enduring strength of Balinese culture.
…there is no doubt that the performance brought us closer to the essence of a culture than most touring or touristic performances ever can, making us question and perhaps reject the ways that non-western or pre-western traditions are commonly presented on our stages." — Los Angeles Times, 2005
Considered a leading creative force in their native Bali, Çudamani is dedicated to creating new works as well as preserving classical Gamelan repertoire. The musicians of Çudamani play on a hybrid gamelan orchestra created in the 1980s. With seven tones rather than the usual five, this special gamelan allows the freedom to play in rare modes, more derived from older court and ritual gamelan.
Led by Artistic Director, I Dewa Putu Berata, Gamelan Çudamani launched this six-week 2007 U.S. tour under the auspices of the UCLA Center for Intercultural Performance. Odalan Bali was assistant directed by Emiko Saraswati Susilo, choreographed by I Nyoman Cerita, and composed by I Dewa Putu Berata, I Dewa Ketut Alit, I Dewa Rai, I Made Karmawan, and Wayne Vitale.
Credits
Recorded in Pura Bukit Sari and Pura Dalem Pancer, Pengosekan, Bali
Recording Engineer: Paddy Sandino
Mastering: Wayne Vitale / Vital Records
Ambient Soundscapes recorded and mixed by: Wayne Vitale
Cover art original painting: Dewa Nyoman Apramada
Cover design: Philip Graulty
©2007 Gamelan Çudamani