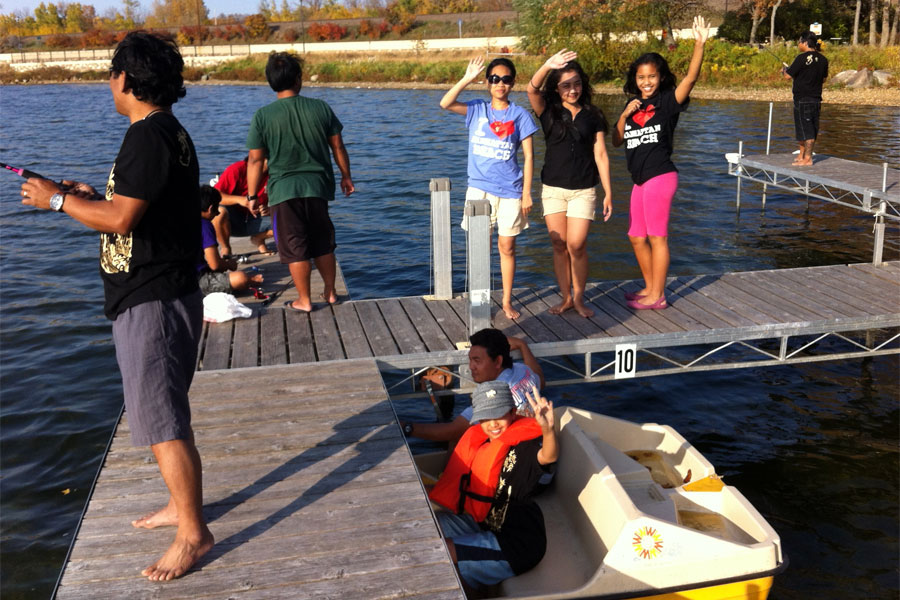 The third week of Çudamani's Arts Midwest World Fest tour brought us to the city of Detroit Lakes, Minnesota. Coming from a country of 17,000 islands, it is no surprise that Çudamani felt right at home in "The Land of 10,000 Lakes." While the nearby lake provided us with daily catches of fish and beautiful sunsets, it was the warm generosity of the local community that made this visit so memorable.
Upon our arrival, we were greeted with a reception at the Detroit Lakes Community and Cultural Center (DLCCC). The following night, the group was invited to dinner at the home of local Indonesian resident Fred Haring and his wife Bette. Guests from as far away as Fargo, North Dakota, stopped by to welcome us to the area. Later in the week, we attended another dinner at the home of Greg and Marcia Potvin, where Police Chief Tim Eggebraaten brought his guitar and led an impromptu jam session that blurred the line between American folk songs and Balinese kecak chants.
Daily school visits proved just as special. DLCCC Event and Outreach Coordinator Becky Mitchell accompanied us to elementary, middle, and high schools in Detroit Lakes as well as nearby towns of Perham, Lake Park Audubon, and White Earth. One of many highlights from our busy schedule was a visit to the headquarters of local World Fest sponsor SJE Rhombus. Çudamani gave a special presentation for the company's employees and in turn received a guided tour of SJE's incredible manufacturing facility.
Thursday's public performance at the Historic Holmes Theatre was nothing short of wonderful. Nearly 500 people were in attendance that evening. Çudamani gave it their all and the audience responded with a standing ovation and greetings of praise.
As the week drew to a close, the brisk autumn air settled in, giving us our first glimpse into the cold winter months that lie ahead. For Çudamani, two days of flurries was more than enough to satisfy their appetite for snow.
By Philip Graulty